Overview
Easily manage the plasma desmear process without the time-consuming weight measurements
This is a label-shaped indicator capable of being affixed for use in plasma desmearing of printed wiring board via hole structures.
It has compatibility with the O₂+CF-based mixed gases often used in plasma desmear. It can also be used for high-intensity plasma processes involving high output power levels and extensive durations, whereas other products in the PLAZMARK™ lineup would exceed the maximum range. Due to its flexibility, this product can be affixed upon a flexible substrate and transported by roll-to-roll plasma desmear equipment.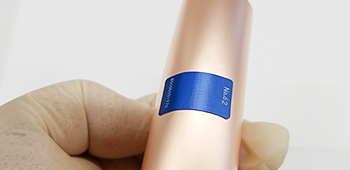 Line-up
High Sensitivity Type No. 61 (Red): For mild desmear processes
Low Sensitivity Type No. 62 (Blue): For high power desmear processes
Color Change
Parallel-plate RF plasma equipment: O₂ + CF gas (mixing ratio 10:1), 25 Pa, 100 W
Comparison of sensitivity

Correlation between color difference and polyimide etching amount
* Single-sided FCCL (Flexible Copper Clad Laminate) used, taken as 80 x 80 mm test piece calculated by weight measurement method based on precision balancing.
Specifications
PLAZMARK™ for Desmear
Sensitivity Type
No.61 (Red)
High Sensitivity
No.62 (Blue)
Low Sensitivity
Series
PLAZMARK™ for Desmear
Shape
Label (Affixable)
Heat Resistance
100℃
Structure
Substrate: Composite material obtained by laminating aluminum foil and polyethylene terephthalate (PET)
Color Change Part: Organic Colorants
Backing Film: PET
Size
Substrate (Color Change Part):
12mm×21mm×0.2mm
Backing film: 90mm×161mm×0.1mm
* 30 labels/ sheet of backing film
Quantity/Pack
120 pcs
Processing Gases
O₂+CF4 etc.
Product No.
PLL0102-61
PLL0102-62
* Note regarding sensitivity categories: Series with smaller number values feature higher sensitivity products, meaning color change occurs under plasma processes of lower output power and shorter duration. Larger or smaller numbers within a given series have no correlation to sensitivity level.
The specifications and appearance of our products are subject to change without notice due to our efforts toward continuous improvement. Differences may be found between the color of the products portrayed in our promotional materials and the color of actual products, related to variances in photographing technique or the printing ink being used.
PLAZMARK™, Plasma Indicator™, and "Visualize the Plasma Process™" are registered trademarks of Sakura Color Corporation.
PLAZMARK™ is a registered trademark in Japan, the E.U., the U.S., and other countries.