概要
Because it takes a shape similar to that of the substrate in use, this indicator can be set in the equipment and in-plate distribution evaluation can be carried out easily, with no special handling necessary.
A heightened level of cleanliness is achieved due to the product's minimization of outgassing rates.
Targeted Processes
Plasma Ashing
Plasma Etching
Plasma CVD (carrier gases only)
Sputtering (reverse sputtering only)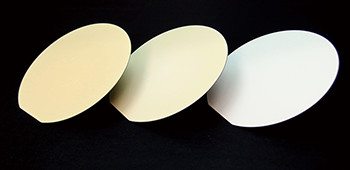 Line-up
Ceramic Type φ4 inch/ 6 inch
A ceramic coating without organic materials enables it to have heat resistance of up to 400℃, allowing for its use in high temperature processes.
With its clean design, it is perfect for LED, MEMS, and other similar manufacturing processes.
Two types of substrate (Silicone and Sapphire) are available.
The hue left after plasma treatment varies depending on the type of gas being used.

Metal-free Type

(under development)

φ200㎜ / 300㎜
The elimination of metal ingredients to the greatest extent possible offers an increased level of cleanliness.
It has been optimized for clean processes such as the silicone semiconductor front-end process.
Application for in-plane uniformity evaluation
Color differences can be quantified by utilizing a proprietary "Plasma Indicator Evaluation System."
Even slight differences essentially unrecognizable to the naked eye can be detected. Accordingly, in-plane uniformity can be assessed intuitively by means of mapping.
Results can be obtained easily and without time-consuming steps.
This includes, for instance, color changes due to Ar gas, and evaluations of in-plane distribution by means of an automatic mapping system.